PHOENIX ONE BANGALORE WEST - THE DESIGN
Phoenix One Bangalore West - Seated at the centre of Rajajinagar, opposite the Sheraton Hotel and Orion Mall, Phoenix One Bangalore West's premium residential towers offer spacious, well ventilated 4-bed homes with family and study areas, 3-bed homes and 2-bed homes with a family area. Choose your perfect living space without compromise. Choose to live well.

Phoenix One Bangalore West is well positioned as the premium apartment address in the heart of the city, thoughtfully crafted for stylish living. You will notice that each apartment faces the open green area, ensuring privacy for each home in addition to an expansive aerial view of the garden city. Energy efficient and innovative glass façade design maximizes the impact of natural light & also drives cross ventilation. Articulate landscaped areas welcome you home while the Zen and botanical gardens will surely tempt you to stroll a while! A soothing dip in the pools to wrap up a stimulating workout at the clubhouse gymnasium...now thats living well!

Phoenix One Bangalore West will reign as one of the tallest tower in the heart of the city, rising amidst green environs and be admired as the undisputed icon of the city. Designed by renowned international Architects: Benoy, UK & RSP, Singapore. Landscape Design is conceived by Design Cell.

Benoy is an award winning international firm of architects, master planners, interior architects and graphic designers working from design studios in the UK, Middle East, India, China, and Asia. Founded in the UK in 1947, Benoy is an active global player, a leading creative force bringing world class design to your door step. The striking aesthetics defining Phoenix One Bangalore West is destined to be the talk of town.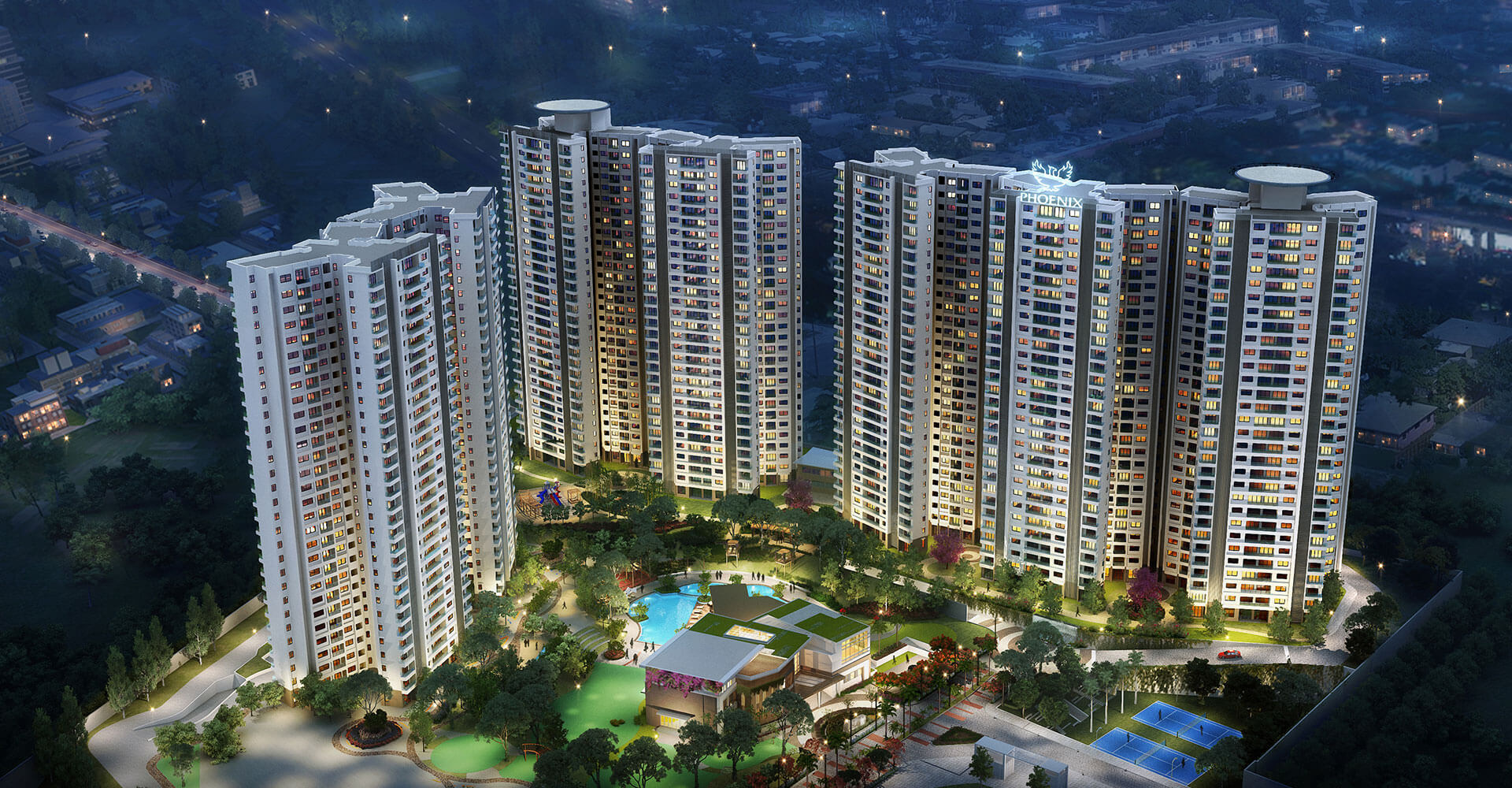 RSP is one of the largest and most reputed Architecture, Planning and Engineering Practices in Asia. They are an innovative, quality driven and highly professional organization committed to providing you with an environment conducive to living well.

Design Cell is a multidisciplinary international firm, established in 1987. The firm's partners are dedicated to creative and technical excellence in every endeavor. Their list of noteworthy projects include Golf. Links Business Park, Kempegowda International Airport - Bangalore and Formula 1 - Noida. Their holistic vision for the outdoor spaces at Phoenix One Bangalore West will beautifully complement your coveted address in the garden city.

Prasad Consultants Structural Engineers Bangalore is headed by HNR Prasad who holds a Master degree in Structural Engineering from reputed Indian Institute of Science Bangalore. The firm has a team of highly qualified structural analysts well equipped with all software's and codes of practice. They have already designed number of tall buildings which indicate the extra talent which he and his team have in interpreting the results of various software's leading to an Efficient, Safe and Economical design.

Mock flat interiors are done by Molt Design Studio. Molt Design Studio partnered by Radhika Jobanputra & Sailee Jadhav experiments with new spatial concepts in the pursuit of a visionary aesthetic that encompasses all fields of design ranging from interiors, furniture to products. The philosophy is to create spaces within realm of client's lifestyles & personalities keeping in mind the asthetics, quality & design. With a keen eye for details and love for experimenting with new materials, they add contemporary twists to traditional elements. The firm loves to work on projects that are design driven.
PHOENIX ONE BANGALORE WEST - THE INTERIOR